Through 13 days (17 – 30 July 2022) young people from Slovenia, Croatia, Serbia, Ireland… from various ethnic, national, cultural, and social backgrounds will focus on the socio-economical obstacles through the use of media. We will examine how we can as documentary filmmakers participate in public life through different media. The project will take place in Krško (Slovenia).
Through the practical workshops on the making of short video documentaries, young people will gain media-making skills enabling them to establish a more effective public voice. Our products – video and film documentaries – will be presented at the final public projection, followed by a discussion. Later they will be shown on different film festivals, public projections, and the internet.
Through the exchange, we hope to promote and develop a larger capacity of communication between individuals from different cultures, a more flexible attitude to the context of cultural diversity in Slovenia as well as in other European countries, and the recognition of the common heritage of humanity.
Projections of films made by young people: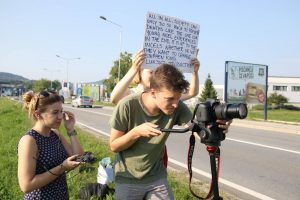 In the evenings we will have projections of films made by participants in their countries. Projections will be followed by discussions with the authors. Those of you who have films that you would like to show, please tell us in advance that we can prepare the timetables
Workshop
:
The main activity running through all the projects will be Documentary Film Workshop. The idea is that in the first 1-2 days we will have introduction lessons, searching and discussing the potential themes – ideas for documentaries, later we will split in small gro ups 3-4 people and start shooting. The last few days will be time to edit it. There will be mentors – film directors Želimir Žilnik, Marko Cvejić, Miha Možina, Boris Petkovič … DOP Jure Černec and editors Marija Kovačina, Nemanja Babić… who will support you in all phases of filmmaking.
 The main idea for selecting the topics for workshop films&videos is the reflection of society by young people. At the same time, these will be expressions about you, who you are, what you are into, what you stand for… The way how we produce, consume, and react to media can be dramatically different.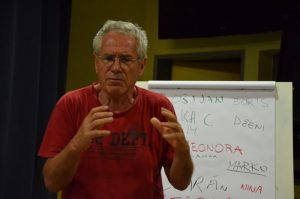 All those differences will be built in our workshop products.
We would like to stimulate you to have your own ideas for the topics of workshop films. Something that you believe is important and you would like to show to a wider audience. Something that you believe should be more visible and discussed in the public. Something that in mainstream media doesn't have enough publicity and you believe that should deserve it.
As sometimes might be difficult to find the idea in such a short time, especially in a new environment, we will invite some locals who will present some ideas and suggestions for possible topics.
Equipment
:
We have a few small mostly HD camcorders and DSLR's and computers for editing. Unfortunately, we don't have enough equipment for all of you, so it will be necessary to share between the groups.
Those of you who have your own equipment (camcorders, tripods, microphones, laptops…) please bring it. In that case, you will be much more independent, you won't need to wait for the equipment.
There will be rooms to lock the equipment, there is also an alarm in the building where we will have editing rooms.
Final projection
At the end (28th July) will be the public projection of films that we will make. This means that we expect you to finalize your projects – workshop films & videos the same day before 17.00. The projection will run from the computer so we need export files (*.mov or *.avi). Please don't forget to put English subtitles.
ARRIVAL: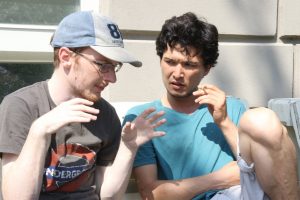 Participants should arrive to the hostel on 17th July, preferably before dinner at 19h.
DEPARTURE:
The workshop officially finishes on the 30th of July after breakfast.
LOCATION
:
Hostel – Youth Centre Krško, Cesta krških žrtev 105, 8270 Krško
TRAVEL:

From the airports, you can easily and for a low cost reach Slovenia by using low-cost transfers such as GoOpti  (www.goopti.com)and then continue your journey to Krško by train (http://www.slo-zeleznice.si/en/) .
International railway timetable: (https://www.bahn.de/i/view/overseas/en/index.shtml)
COSTS:
All the food & accommodation for participants who are residents of Croatia, Ireland, Serbia, and Slovenia is covered by the EU Erasmus+ program. According to their regulation, they also cover part of travel costs (Ireland up to 275 Eur, Serbia up to 180 Eur and Croatia 20 to 180 Eur – depending on the distance from Krško).
The travel costs will be refunded after the workshop on your bank accounts. Please don't forget to save all the bills and tickets for your travel.
OFFICIAL PARTICIPANTS:
Young people from 18 – 30 years old. Participants need to be residents of the country where our official partner is from. Nationality or citizenship is not important.
MORE INFO:  luksuz.produkcija@gmail.com
Later we will also prepare some suggestions for the possible topics of documentaries.
Please find the Makin' of the previous Workshop in Ljubljana: